Shoma Sinha, PhD, PEng., Past President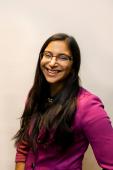 Shoma Sinha, PhD, PEng., Past President
Shoma has a passion for science and technology and for helping others achieve their full potential. 
After completing an undergraduate in Engineering Science – Nanoengineering from the University of Toronto, she came out to Alberta to pursue a PhD in molecular scale devices from the University of Alberta. Alberta has been her home ever since! Shoma was a researcher in a private sector advanced materials company for seven years before joining the Government of Alberta, Ministry of Economic Development, Trade and Tourism. She is also currently pursuing an MBA in Innovation and Entrepreneurship.
Shoma understands the challenges surrounding diversity and inclusivity in STEM and the impact to individuals and organizations. She aspires to help make a difference. In 2008, she helped found the WISER (Women in Science, Engineering and Research) Network for Early Career Professionals. Since its conception, the network has had a profound influence supporting and helping young professionals develop their skills and explore career options. She is also a co-founder and mentor of the MentorUP (Mentor Under-represented Populations) and BESTT (Bridge for Engineering, Science and Technology Talent) programs, a past board member for WISEST and was President of AWSN from 2013-2016.  As the past president of AWSN, she continues to enjoy volunteering with the networks varied programs. Shoma was a recognized as an Edmonton Top 40 Under 40 in 2016.
Pronouns: She/her