Vanessa Carias, PhD, Communications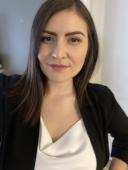 Vanessa Carias, PhD, Communications
Vanessa Carias moved to Alberta from Ontario to pursue a PhD in Medical Genetics at the University of Alberta and graduated in June 2019. She completed her Bachelor of Science at the University of Western Ontario where her interest in genetics first began. Her PhD work focused on characterizing a gene called MAGEL2 involved in Prader-Willi and Schaaf-Yang syndromes.
During her time at the UofA, she was a coordinator for Let's Talk Science, a science outreach organization that planned science outreach events for children of all ages. Vanessa's main role involved organizing the "School of Witchcraft and Wizardry: Science is Magic!," which taught children of all ages different science concepts with a Harry Potter theme. After completing her PhD, she worked for the Telus World of Science Edmonton as an Outreach Coordinator, where she continued her science outreach and communication efforts. Now Vanessa works for Genome Alberta as their Research Program Manager, overseeing exciting genomics projects in Alberta in various fields from agriculture to health.
Vanessa joined the team in 2020 and is excited to be a part of the communications team where she can promote inclusivity in science through her passion for science outreach and communication.